PAPER FLEET //  "PAPER FLEET" 
(OTTOMEN RECORDS OTTV-004)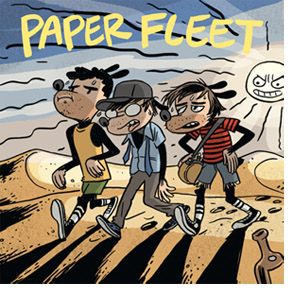 In the five years since their first full-length album (2008's Hi, Sailor) Brooklyn, NY's Paper Fleet has crafted their garage rock sound and channeled it into a pair of 7" EPs.  Baby, We Love Each Other (2010) showcased the band's scrappy, DIY tendencies and penchant for power-pop storytelling with memorable songs of love and laziness ("Cigarettes and Small Talk", "Weatherman's a Creep").  Prairie Fires of the Great West (2011) expanded Paper Fleet's repertoire with the peppy B-side "Out West" and captured a new audience with the fiery rocker "Plane Crash," which was featured on The Best Show on WFMU ("It's awesome!" declared host Tom Scharpling).
The forthcoming 12" vinyl release shows Paper Fleet cranking out uptempo rockers for the shout-along set and capturing the live energy honed over years of playing in Brooklyn and touring beyond.  The no-frills directness of Paper Fleet's delivery creates a sense of urgency that's impossible to miss: in the rollicking opener "Tonight", drummer Josh Inman thunders, "I got somethin' to tell you/I'll scream it across the room, if I have to!"  Throughout Paper Fleet, the band opts for the sort of timeless tune that would feel equally at home on a mixtape of early American indie rock (throw "Settle Down" on that Replacements mix, or see how "Get Lost" sits next to your favorite Dinosaur Jr. deep cut) or classic 1960s pop ("Walls Fell Down", "Won't You Sometimes Dream of Me?").
If you've ever found love, or screwed it up, or figured it out, then decided it wasn't worth it and hopped a train to go drink with your friends, Paper Fleet's been there, and Paper Fleet's got a song about it.
Current lineup: Jim Campbell, Josh Inman, and Jon Mann.
"I'm not wont to fall for such charm but the songs just get better each time I listen. –Craven."
-RAZORCAKE (writing about the previous Paper Fleet 7″ Prairie Fires of the Great West)
Paper Fleet's new album is available now at Itunes
You can buy the 12 inch vinyl now at cape-shok.com  , and at http://paperfleet.bandcamp.com/
Record release party Nov 1st at Cake Shop (recently named best venue in NYC 2013 by Village Voice)
Hearts Bleed Radio gave us a nice review here
Tom Scharpling played a track from the new album on the October 29th episode of Best Show on WFMU which you can stream here (it's towards the end of the show)
Tracks were produced and mastered by by Mario Viele at Cowboy Technical Services, Brooklyn.
PAPER FLEET // NOV 2013
Tracklist:
SIDE A:
01 Tonight
02 Washed Away
03 Settle Down
04 Sometimes
05 Black and White is Never Gray
06 Won't you sometimes Dream of Me
SIDE B
07 Worn Out
08 U Don't Judge Me (inspired by/thanks to the Best Show on WFMU)
09 Your Old Man
10 Crescent City
11 Walls Fell Down
12 Get Lost
go to BANDCAMP // follow them on FACEBOOK
for distribution and questions CONTACT: paperfleet@paperfleet.com
MORE INFO: WWW.PAPERFLEET.COM