HOWDY FOLKS! WELCOME TO RETRO MONDAYS!
So Recently, I've took a trip into the OTTOVAULT and discovered some instrumentals that Jim and George recorded in 2012 (or possibly before).
*They sent me a bunch of bass and drum tracks of which i took and added guitar and vocals and made fun songs with them. ("Human Centipede" and "Commando" were created through this procedure. -Jim and George are from the Original Ottomen Kansas City Band line up.)
i was inspired from what i heard and created new songs with them and here's one of the first ones.
This song continues the tradition of Ottomen songs representing "He-Man" action figures. This song is called "Stinkor" .
I recorded and mixed this in a span of a week or so.
musicians:
Jim Campbell-Bass
George Garcia- Drums
Dave Stevenson -Vocals and Guitars.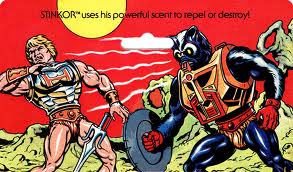 listen to it or download it>stinkor